Fra TV2 News
2011 blev endnu et varmt år, som globalt set gik hen og blev det 11. varmeste siden målingerne begyndte for 132 år siden.

Med en middeltemperatur for både oceanerne og landområderne på hele Kloden, der blev 0,51 varmere end normalt, så har 2011 ifølge Det Nationale Klima Center under den amerikanske vejrtjeneste, NOAA været ligeså varmt som 1997 - og dermed det 11. varmeste år vi har oplevet siden 1880.
Jeg vidste at jeg blot skulle vente nogle dage til køligere hoveder ville korrigere denne årligt tilbagevendende historie (ligesom det altid stigende antal hjemløse og fattige til Jul). Joseph D'Aleo er som sædvanlig frisk på at konfrontere forskellige datasæt.
NASA annpounced this week that 2011 was the ninth warmest year since 1880 (132 years) despite a quiet sun (not really the case) and La Nina.

UAH had 2011 as the 18th warmest (thus 15th coldest) in their 33 years of record keeping. That alone should raise your eyebrows. Obviously the 15th coldest year in the last 33 years could not also be the ninth warmest in 132 years.

Here is a plot of the UAH and NASA GISS temperatures versus the CO2 in the last 10 years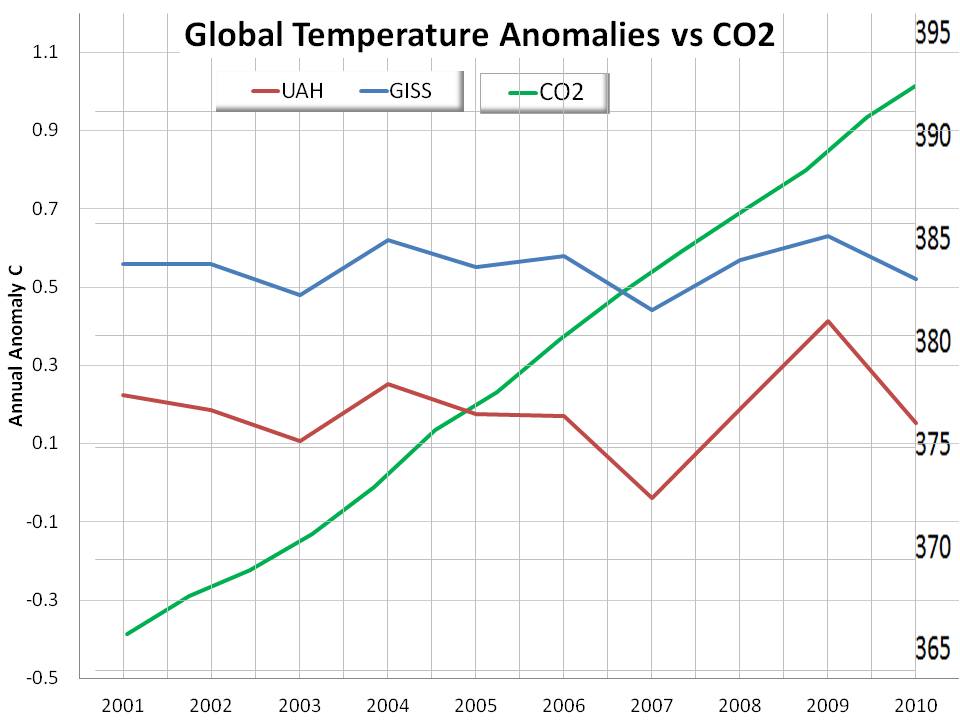 Temperatures are flat even as CO2 has risen almost 8%. It looks like the third coldest year of the ten in NASA and UAH data sets. The anomalies are supposed to be greater (1.2 times) for the lower troposphere as measured by UAH than the surface as measured by GISS because the atmosphere is where the CO2 is supposed to do its trapping work according to the theory. Instead the surface anomalies are three time higher suggesting surface contamination and a failed/incomplete theory.
UAH er sattelitmålinger og jeg skal skam ikke være dommer over om denne rumalderens teknologi har noget at sige overfor gamle kvicksølvtermometres statisktisk bearbejdede resultater.
2 Kommentarer »
I "videnskab dk" har jeg lige læst, at arkæologerne har fundet bygaks i affaldsbunker på Grønland, der stammer fra vikingetiden. Det betyder, at man har dyrket byg på Grønland i vikingetiden. Samme vidner om et meget lunere klima dengang, for selv med global opvarmning er det ikke muligt idag.
Jorden gik jo ikke under dengang, og gør det næppe i fremtiden.
Min "ringe" mening om den "globale opvarmning" er, at vi sikkert bare er ved at få et normalt klima efter den lange nedkøling i den "lille istid" i middelalderen.
Det er jo bekvemt for vore politikere, at have nogle "forskere" der skyder skylden på co2 udslippet, således at der er base for at opfinde nye skatteobjekter, til vor, og vore børnebørns, "eget bedste".

Ja, jeg læste det godt. Og jeg er helt enig i dine betragtninger om en del af dynamikken bag klimahysteriet. Som nogle forskere formulerede det for et par dage siden i Wall Street journal:

This is not the way science is supposed to work, but we have seen it before—for example, in the frightening period when Trofim Lysenko hijacked biology in the Soviet Union. Soviet biologists who revealed that they believed in genes, which Lysenko maintained were a bourgeois fiction, were fired from their jobs. Many were sent to the gulag and some were condemned to death.

Why is there so much passion about global warming, and why has the issue become so vexing that the American Physical Society, from which Dr. Giaever resigned a few months ago, refused the seemingly reasonable request by many of its members to remove the word "incontrovertible" from its description of a scientific issue? There are several reasons, but a good place to start is the old question "cui bono?" Or the modern update, "Follow the money."

Alarmism over climate is of great benefit to many, providing government funding for academic research and a reason for government bureaucracies to grow. Alarmism also offers an excuse for governments to raise taxes, taxpayer-funded subsidies for businesses that understand how to work the political system, and a lure for big donations to charitable foundations promising to save the planet. Lysenko and his team lived very well, and they fiercely defended their dogma and the privileges it brought them.

http://online.wsj.com/article/SB10001424052970204301404577171531838421366.html?mod=WSJ_Opinion_LEADTop
RSS feed for comments on this post. TrackBack URI
Kommentér indlægget...